Specifications
Raschel knitting machihne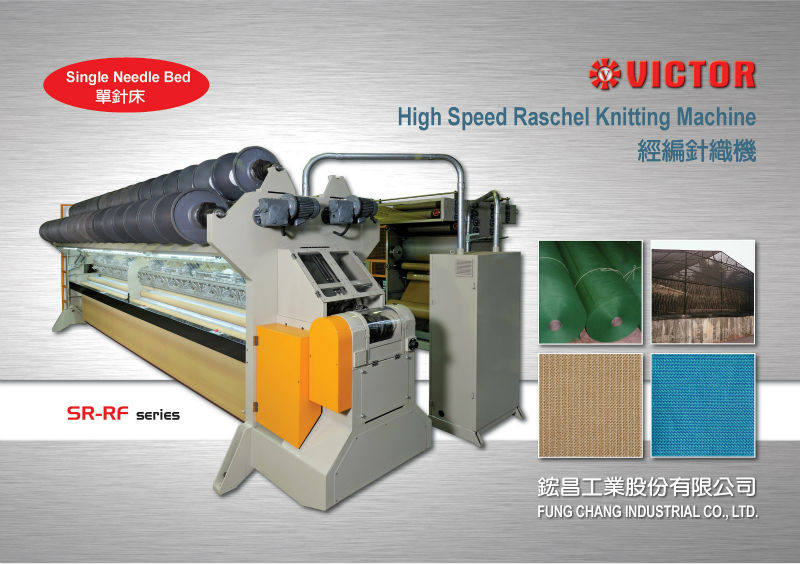 Raschel knitting machihne Features:
1. Both of complete round yarn, flat yarn, or fabric in mixed yarn products, for example: shade nets, hand bags, fruit mesh bags, safety nets for construction, hail net etc.
Remarks:
1. Special specifications are also available.
2. Manufacturer reserve the right to change the specifications without notice.
Raschel knitting machihne
Raschel knitting machine series is more flexible than ever, no limitation in yarns. This new model is equipped with both round yarn and flat yarn let-of systems (beam and Slitting & Extension Machine) in one machine and it could manufacture fabrics in complete round yarn, flat yarn, or fabric in mixed yarn. The control panel of this series adopts inverters to control speed. Several inverters control the motions of different functions let machine operate conveniently and adjust easily.
The efficiency of knitting machine will be more than 10% if it matches slitting & extension machine. Because of its steady yarn feeding, the machine can raise the quality of fabric also the waste rate is just half of creel type. But if customer had flat yarn making machine already, we would offer creel as yarn let off system to correspond with customer's demand.
Raschel knitting machihne specifications:
Model

SR-RF

Available Width

170"

200"

240"

Gauge of Needle Bed

6, 9, 12, 18G/1"

Drive Bar (Total)

2 ~ 8

Yarn Feeding Bar:

Round Yarn: 3, Flat Yarn: 2

Main Motor/W Inverter

7.5HP

7.5 HP

10 HP

Power Consumption

7.3KW

7.3KW

9.3KW

Yarn let off system

Round Yarn: Beam, Flat Yarn: Slitting & extension Machine or Creel

Dimension L x W x H (mm)

6,250 x 1,640 x 2,629

7,050 x 1,640 x 2,629

7,950 x 1,640 x 2,629
Raschel knitting machihne Certificate: