Specifications
Raschel Warp Knitting machine for bag net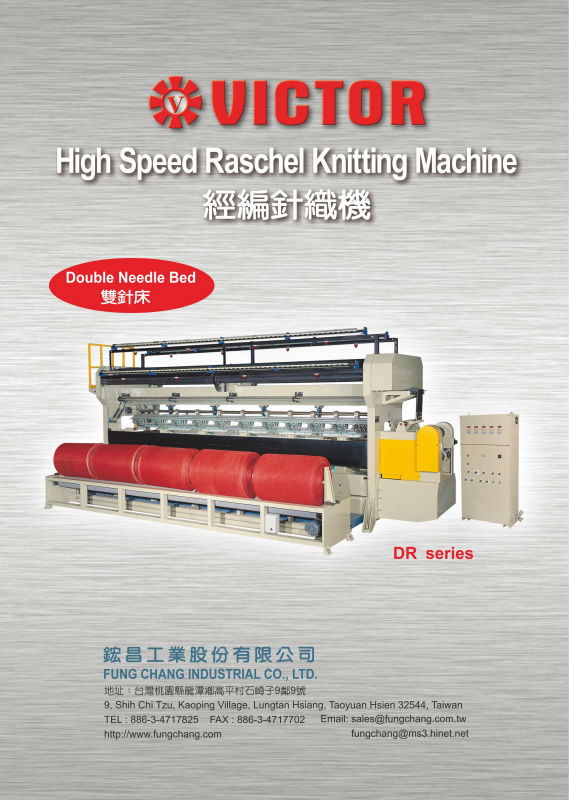 Raschel Warp Knitting machine for bag net Features:
D1:
1.Raschel mesh bag machine is suitable for super wide Shade net, Hail net, Garden net, Construction net, etc.
Remarks:
2. Machine can make 2 layers of net at same time.
3. Stitch both sides of nets, the product become to tube net
D2:
1. Raschel mesh bag machine suitable for fruit mesh bag, onion bag etc
2. All stitching of the bag is done on the machine. Save the labors cost for stitching process
3. Drawstring can be done automatically
4. The size of bag is adjustable
Remark:
1. Special specifications are also available
2. Manufacturer reserve the right to change the specifications without notice
Raschel Warp Knitting machine for bag net
DR2- series knitting machine equips 2 needle beds which is suitable for the packing of industry, agriculture or fishery products. The control panel adopts inverters to control speed. Inverters are connected with the main motor which synchronizes the speed of rollers, so the operation is easy and convenient. And further, you can also choice auto cutting machine to save the cost of labors.
Raschel Warp Knitting Machine for bag net specifications:
Model

DR1 & DR2 series

Available Width

170"

200"

Gauge of Needle Bed

6G/1", 12G/1"

Drive Bar (Total)

5 ~ 11

Yarn Feeding Bar

4 ~ 6

Main Motor W/Inverter

7.5 HP

7.5 HP

Power Consumption

7.4KW

7.4KW

Yarn Let Off System

Monofilament yarn: Beam or Creel

Flat Yarn: Slitting & Extension Machine or Creel

Dimension L x W x H (mm)

6,150 x 1,650 x 2,720

6,950 x 1,650 x 2,720
Raschel Warp Knitting Machine for bag net Certificate: